Access to Clinical Trials May Drive Differences in Outcome Among Childhood Hodgkin Lymphoma Patients

COG study looks to explain lower survival rate for nonwhite children and adolescents with disease
Study is latest to report lower survival for blacks, Hispanics with the disease
Multicenter team set out to identify factors behind this disparity
Expanded access to clinical trials may help to erase outcomes gap
BUFFALO, N.Y. — Research led by a pediatric oncologist at Roswell Park Comprehensive Cancer Center has confirmed what several earlier studies showed: that overall survival is significantly lower for nonwhite children and adolescents with Hodgkin lymphoma than for white patients with the same disease. The team set out to explain this long-known but little-understood disparity, reporting their findings in the Journal of Clinical Oncology.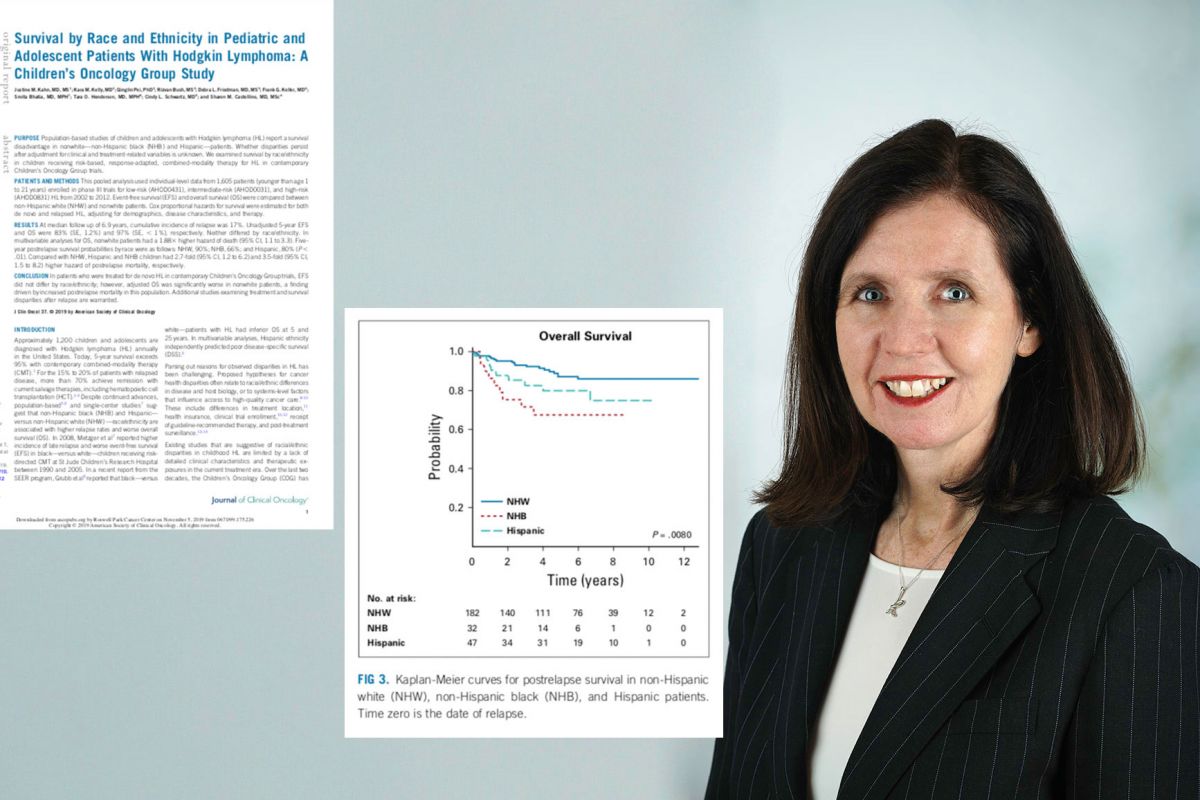 Roswell Park pediatric oncology Chair Dr. Kara Kelly led an effort to help explain and address outcome disparities in patients with childhood Hodgkin lymphoma.
Kara Kelly, MD, the Waldemar J. Kaminski Endowed Chair of Pediatrics at Roswell Park and Chair of the Roswell Park Oishei Children's Cancer and Blood Disorders Program, was a senior advisor on the study, which updates earlier findings reported in 2017 at the American Society of Hematology Annual Meeting.
The new study, "Survival by Race and Ethnicity in Pediatric and Adolescent Patients With Hodgkin Lymphoma: A Children's Oncology Group Study," examined individual-level data regarding 1,605 patients ranging in age from younger than age 1 to 21 years old who were enrolled in phase III trials for low-risk, intermediate-risk and high-risk Hodgkin lymphoma from 2002 to 2012.
Childhood Hodgkin lymphoma is a relatively rare cancer of the lymph system that is diagnosed most commonly in adolescents. Dr. Kelly and team found that among patients newly diagnosed with the disease who received treatment as part of Children's Oncology Group trials, race and ethnicity did not impact event-free survival — the length of time that patients remain cancer-free following participation in a clinical trial. However, in the long term, the adjusted overall survival was significantly worse in non-Hispanic black and Hispanic patients, among whom post-relapse mortality was notably higher.
"While we documented a concerning and very dangerous disparity, the good news is that these findings also point the way to a possible remedy," says Dr. Kelly. "As long as patients participated in clinical trials, their outcomes were good. But we also know that many patients with childhood Hodgkin lymphoma are not treated on a clinical trial after a relapse."
More research is needed to determine whether the survival differences after relapse relate to the biology of Hodgkin lymphoma between whites and nonwhites or a difference in access to clinical trials at the time of relapse, the author's note.
The study was a collaborative effort involving teams from nine different centers, including Columbia University Irving Medical Center and the Medical College of Wisconsin. This research was supported by several grants from the National Cancer Institute, or NCI (project nos. U10CA98543, U10CA098413, U10CA180886 and U10CA180899. Additional funding was provided by the St. Baldrick's Foundation, Lymphoma Research Foundation and Irving Institute for Clinical and Translational Research at Columbia University Irving Medical Center.